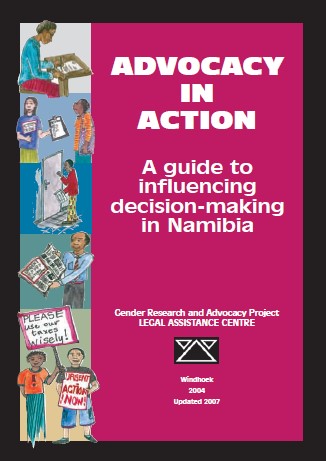 Have you ever wanted to convince Parliament to pass a law on a particular topic? Ever wanted to persuade your regional council to provide better services for the elderly, or to pressure your local authority to take steps against illegal shebeens? Ever wanted to lobby your local clinic to stay open for longer hours, or to convince your school to introduce a new extracurricular activity? Ever wanted to influence a decision by a government body such as the Social Security Commission or a Communal Land Board? Ever wanted to convince your church to play a more active role in speaking out on HIV, to convince your employer to offer a better medical aid plan or to convince your traditional leader to involve more women in community decision-making? If you have ever wanted to influence decisions like these, then you are interested in advocacy.
Advocacy is an effort to influence a law, a policy or some other decision. Advocacy can be directed at various levels of government, government bodies, or other institutions or individuals. And, if you are interested in improving your advocacy skills, then you might be interested in the GR&AP publication Advocacy in Action: A guide to influencing decision-making in Namiba.
Advocacy in Action is a manual aimed primarily at NGOs and grassroots-based groups who are interested in increasing their advocacy skills. It contains concrete, practical information about advocacy strategies such as petitions, press conferences, public demonstrations and letter-writing campaigns as well as detailed information on government structures and Parliamentary procedures – and how to influence decision-making bodies and processes. The manual is written in simple English, with many photographs, illustrations and examples. It includes actual case studies of advocacy efforts in Namibia. The manual is aimed primarily at civil society, but it will also be of interest to office-bearers at the local, regional and national level. It is best used as "textbook" for workshops on advocacy skills.
Read an article from our archive: