EU Gender Analysis
GR&AP was commissioned by the Delegation of the European Union to Namibia (EU) to produce a gender analysis to guide future intervention on gender issues in Namibia by the EU and its member states. This 13-chapter report was completed in 2017, informed by a host of Namibian statistical data as well as interviews with 20 key stakeholders from government and civil society.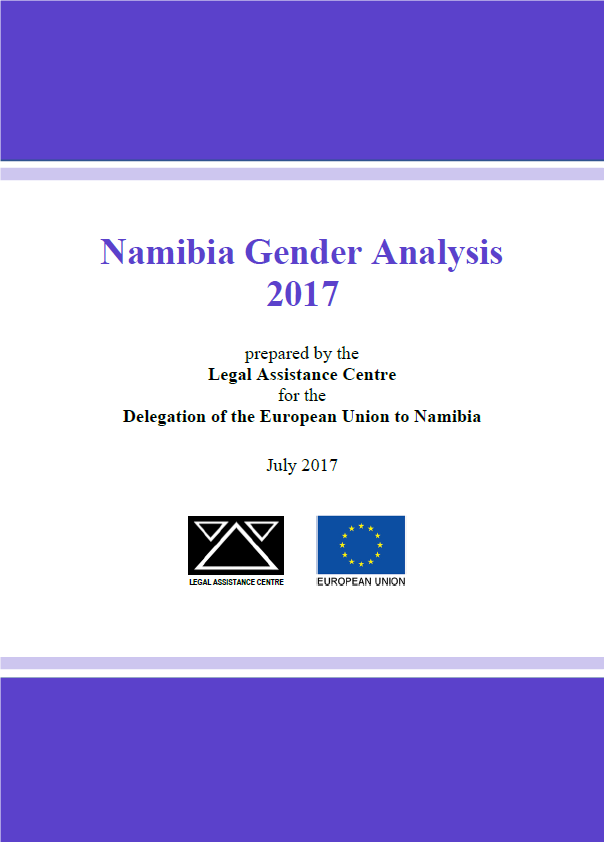 Contents
1: Introduction
2: Key Demographic Information
3: Development and Gender Equality Indicators
4: Women and Politics
5: Economics, Employment and Poverty
6: Housing, Land and Agriculture
7: Health, Health Care and Sexual and Reproductive Rights
8: Education
9: Women in Family and Society
10: Gender-Based Violence
11: Sexual Orientation and Gender Identity
12: Women and Girls with Disabilities
13: Key National Plans
National Gender Policy 2010-2020
GR&AP was commissioned by the Ministry of Gender Equality and Child Welfare to prepare an information package on the National Gender Policy 2010-2020. This information set consists of a factsheet, a pamphlet aimed at youth and a pamphlet aimed at adults.
General training materials
GR&AP has produced several training tools on gender and the law.
The Gender Training Manual and Resource Guide (2006) was produced jointly with the Ministry of Gender Equality and Child Welfare. It contains modules on specific gender-related topics, as well as modules on gender mainstreaming and monitoring and evaluation. It is aimed at persons who intend to conduct gender training.
Another resource for gender trainers is Key gender laws: A Training Manual for Community Activists (2008), which contains model training sessions on gender, the Married Persons Equality Act, rape, domestic violence and maintenance.
GR&AP also has a Gender & the Law CD which contains PowerPoint presentations on the Combating of Domestic Violence Act, the Combating of Rape Act, the Married Person's Equality Act, the Maintenance Act and Gender and the Labour Act. The CD is suitable for trainers who are conducting workshops on these topics. This CD can be requested from the LAC office.
A related resource is Gender and the Law: Scripts for radio, which is a package containing scripts that radio presenters or community activists can use to talk about gender and the law on radio. It contains scripts on gender equality, empowerment, domestic violence, assertiveness and alcohol. Also available on CDs are pre-recorded radio shows on gender equality, empowerment, assertiveness, domestic violence, rape, maintenance, and alcohol. The CDs can be requested from the LAC office.
Gender & International Law
A 2005 publication on Gender and International Human Rights provides information on Namibia's international and regional obligations pertinent to gender. Although some of Namibia's more recent international commitments are not captured here, the report provides useful background and explanation of key treaties which are still relevant. It contains a dedicated section on international human rights law on violence against women.
Gender scorecards
For several years, GR&AP published annual or bi-annual "gender scorecards" in the form of newspaper articles summarising the key legal developments on gender during the previous year. These have not been produced in recent years, but the following articles are available in our archives.