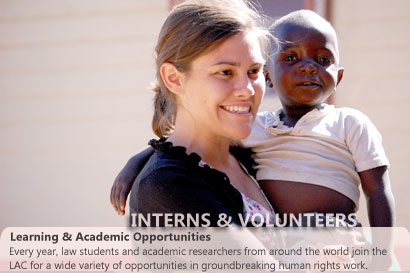 Overview

The LAC offers dynamic internships to law students and law graduates in the following areas:
Human Rights & Constitutional Rights

Gender Equality & Awareness

Land Rights & Environmental Law

HIV/AIDS Discrimination
Criteria
Applications will be assessed on the basis of the their suitability and the present needs of the organisation. Please provide a time frame for your stay and a CV together with your application.

Interns should be willing to commit to:
Interested candidates should apply to the LAC in writing via email.

Testimonials
I recommend that anyone interested in Namibia, gender, and/or the law seek the opportunity to become an intern, a visiting scholar or do volunteer work at the Legal Assistance Centre's Gender Research and Advocacy Project (GRAP). Advanced and emerging scholars will both benefit from working on short- or long-term projects with the staff at GRAP. My experiences, as a visiting scholar from January-June 2006, exceeded all of my expectations. It was truly a memorable and productive period which enhanced my professional and personal life on many levels. The staff at LAC, in general, and GRAP, in particular, was friendly, welcoming and provided an environment that fostered team spirit and professional development. With their assistance, and the help of Co-ordinator Dianne Hubbard, I was easily able to network and establish contacts with important academics and the directors of the major NGOs. My only regret is not having a longer time to spend at GRAP. I am already looking for funding in order to return."
Dr Suzanne Lafont,
City University of New York (CUNY)
Past Experiences

"My eight month internship with the Gender Research and Advocacy Project at the Legal Assistance Centre was a tremendously enriching experience on both a personal and professional level. I gained considerable experience in the areas of legal and field research, public engagement, and policy development and law reform initiatives. As part of field work I conducted for several studies, I had the opportunity to travel throughout the country and to see first-hand the impact of the LAC's work in communities across Namibia. It is inspiring and rewarding to work for an organization that is so obviously dedicated to the fight for human rights and gender equality, and which has an undeniable impact on improving the legal system, justice and equality for all in Namibia. I am grateful to the talented and dedicated women of the Gender Research and Advocacy Project for offering me such an outstanding opportunity."
Christina Beninger, a Canadian lawyer from the Canadian Bar
Association Young Lawyers International Program, funded by the Canadian International
Development Agency, 2011
"As a volunteer at the LAC, I've had the unparalleled experience of both being entrusted with, and mentored in, legal work that I find truly meaningful. It is rare to find an organization so effective and passionate that it is able to provide interns and volunteers with the opportunity to work hard and feel that they have contributed even in a small way to furthering human rights. My time with the LAC has been useful, interesting, and most of all, a privilege."
Cindy Cho, Fulbright Scholar with the Gender Research & Advocacy Project and the Aids Law Unit. 2009-2010
Contact Information
Legal Assistance Centre
4 Korner Street
Windhoek, Namibia
tel: +264-61-223-356
fax: +264-61-234-953
email: info@lac.org.na