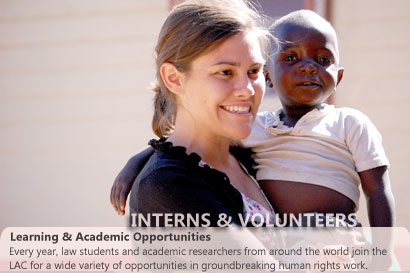 Overview

The LAC offers dynamic internships to law students and law graduates in the following areas:
Social Justice Project

Gender Equality & Awareness

Land Rights & Environmental Law
Criteria
Applications will be assessed on the basis of the their suitability and the present needs of the organisation. Please provide a time frame for your stay and a CV together with your application.

Interns should be willing to commit to:
Interested candidates should apply to the LAC in writing via email.

Testimonials


I would highly recommend an internship with the LAC to anybody with an interest in law, advocacy, human rights and the work of NGOs. My time with the Gender Research and Advocacy Project gave me work (and life!) experience that I would never have been exposed to back home in the UK. From researching information to assist the government with legal reform, to helping design and distribute publications aimed at all Namibians, the work I was given by GRAP was real, important and has a meaningful impact on society. They are also especially accommodating by allowing interns to see the practical follow-up processes to the projects they are working on.

GRAP entrusted me with important and demanding work which encouraged me to explore new challenges and required lateral thinking about varied and interesting legal and human rights issues; as an aspiring lawyer, this was perfect for me. Additionally, the internship tested all sorts of skills: social, writing, design, research, and presentation and took place in Namibia's beautiful and fascinating environs. The fantastic and friendly staff and social events are a definite a perk too.

I can't thank the lovely people at the LAC enough for such a fascinating and unique opportunity!

Ewan Bruce, Aspiring Lawyer and MA (Hons) International Relations & Modern History student at the University of St Andrews

As a volunteer at the LAC, I've had the unparalleled experience of both being entrusted with, and mentored in, legal work that I find truly meaningful. It is rare to find an organization so effective and passionate that it is able to provide interns and volunteers with the opportunity to work hard and feel that they have contributed even in a small way to furthering human rights. My time with the LAC has been useful, interesting, and most of all, a privilege


Cindy Cho, Fulbright Scholar with the Gender Research & Advocacy Project and the Aids Law Unit. 2009-2010

My eight month internship with the Gender Research and Advocacy Project at the Legal Assistance Centre was a tremendously enriching experience on both a personal and professional level. I gained considerable experience in the areas of legal and field research, public engagement, and policy development and law reform initiatives. As part of field work I conducted for several studies, I had the opportunity to travel throughout the country and to see first-hand the impact of the LAC's work in communities across Namibia. It is inspiring and rewarding to work for an organization that is so obviously dedicated to the fight for human rights and gender equality, and which has an undeniable impact on improving the legal system, justice and equality for all in Namibia. I am grateful to the talented and dedicated women of the Gender Research and Advocacy Project for offering me such an outstanding opportunity.


Christina Beninger, a Canadian lawyer from the Canadian Bar Association Young Lawyers International Program, funded by the Canadian International
Development Agency, 2011
Past Experiences

I could recommend an internship at the Legal Assistance Centre to anyone interested in human rights, development, gender issues and legal reform. During my time at LAC I got to meet many interesting people who not only did interesting and important things for Namibia, but who also proved to be helpful with my research and fun to spend time with. While working at LAC you get a feeling of the influence that the organization has in Namibia – it is an amazing and informative experience to be part of an organization that truly makes a difference in many different ways. Moreover, due to the huge amount of work that LAC takes up, you get to do interesting and important work as an intern and you get many responsibilities once you have proven to be up for the challenge!
Eline Peters, Master's student with the University of Amsterdam
"I came to GRAP at LAC to conduct research for my doctoral dissertation in political science. To this end, my experience in Windhoek was a tremendous success. GRAP gave me the connections that I needed to find existing resources on my dissertation topic as well as the guidance to conduct original research. My fieldwork would not have been nearly as successful without the support of GRAP. At a personal level, the staff at LAC made my time in Windhoek a joy and made Namibia a place I hope to return to some day soon."
Amanda Clayton, PhD candidate in the Department of Political Science at
the University of Washington, USA
"I would like to say a HUGE thank you to everyone in GR&AP for welcoming me into the GR&AP family. It was a privilege and pleasure to work with such a dedicated and talented team of people. Each of you enriched my life in so many ways, that I cannot even begin to describe."
Sharon Fox, a Canadian lawyer from the Canadian Bar
Association Young Lawyers International Program, funded by the Canadian International
Development Agency, 2013
Contact Information
Legal Assistance Centre
4 Marien Ngouabi Street
Windhoek, Namibia
tel: +264-61-223-356
fax: +264-61-234-953
email: info@lac.org.na